The crock-pot has to be the greatest invention ever.  Well, no, apparently the new instant pot is but I have yet to try it or really learn about it.  Do you all have one?  I would love to hear your thoughts on it.
Even though I work from home and one would think making dinner is much easier than those with a 9-5 job away from home, it's not really.  It's always a chore and actually figuring out WHAT to make is the biggest task.  But, my crock-pots are lifesavers.
AND...since it is 20 below in a large portion of the country right now, I thought I would share some great, easy crock-pot recipes.  There is just nothing better on a cold day than a nice warm meal in the crock-pot.  Well, maybe a fire, some warm fuzzy slippers, and a hot buttered rum but we also have to eat!  
#1 Easy Go-To Salsa Chicken
Boneless Skinless Chicken Breast
Taco Seasoning (sprinkle on chicken)
Jar of Salsa (Pour over chicken.  I use half of a jar for 2 breasts)

That's it.  All in the crock-pot, on low is fine all day.  On high 3-5 hours if you are rushed.  Use for tacos, salads, over rice or just plain with veggies.  This is my go-to when I have nothing else planned.  So many options and it is quick, easy, and everyone loves it.
#2 Slow Cooker Barbacoa
(One of our favorite Pinterest finds!)
INGREDIENTS:
3 lbs chuck roast (fat trimmed), cut into 2-inch chunks
4 cloves garlic, minced
2 chipotles in adobo sauce, chopped (or more to taste)
1 (4-ounce) can chopped green chiles
1 small white onion, finely chopped (about 1 cup)
1/4 cup fresh lime juice
2 tablespoons apple cider vinegar
3 bay leaves
1 Tablespoon ground cumin
1 Tablespoon dried Mexican oregano (or regular oregano)
2 teaspoons salt
1 teaspoon black pepper
1/4 tsp ground cloves
1/2 cup beef stock or water
DIRECTIONS:
Combine all ingredients in the bowl of a slow cooker. Toss gently to combine. Cover and cook on low for 6-8 hours, or on high for 3-4 hours, or until the beef is tender and falls apart easily when shredded with a fork.
Using two forks, shred the beef into bite-sized pieces inside of the slow cooker. Toss the beef with the juices, then cover and let the barbacoa beef soak up the juices for an extra 10 minutes. Remove the bay leaves.  Use a pair of tongs or a slotted spoon to serve the barbacoa beef.
If not using immediately, refrigerate the barbacoa beef with its juices in a sealed container for up to 5 days. Or freeze it for up to 3 months.
#3 One Pot Honey Garlic Chicken and Veggies
This one I just made last night and it was very good.  However, there are a few things I would do differently.  I like my veggies a little more crisp rather than mush.  So I would not add the carrots until about an hour or maybe two prior to serving.  They really soaked up the sauce and were too mushy for my taste.  I would also try this with other sauce options such as chicken broth and lemon juice rather than soy sauce.  Or add some sesame oil to the soy honey sauce.  Either way, it is definitely a great recipe and you can't beat a one pot recipe.

MY OTHER RECIPES
SLOW COOKER HONEY GARLIC CHICKEN AND VEGGIES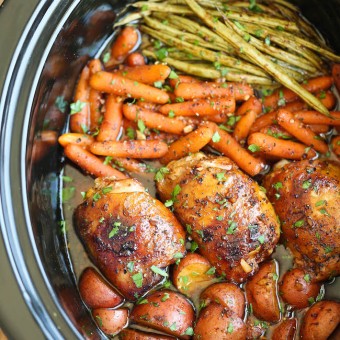 The easiest one pot recipe ever. Simply throw everything in and that's it! No cooking, no sauteeing. SO EASY!
INGREDIENTS:
8 bone-in, skin-on chicken thighs
16 ounces baby red potatoes, halved
16 ounces baby carrots
16 ounces green beans, trimmed
2 tablespoons chopped fresh parsley leaves
FOR THE SAUCE
1/2 cup reduced sodium soy sauce
1/2 cup honey
1/4 cup ketchup
2 cloves garlic, minced
1 teaspoon dried basil
1/2 teaspoon dried oregano
1/4 teaspoon crushed red pepper flakes
1/4 teaspoon ground black pepper
DIRECTIONS:
In a large bowl, combine soy sauce, honey, ketchup, garlic, basil, oregano, red pepper flakes and pepper.
Place chicken thighs, potatoes, carrots and soy sauce mixture into a 6-qt slow cooker. Cover and cook on low heat for 7-8 hours or high for 3-4 hours, basting every hour. Add green beans during the last 30 minutes of cooking time.
OPTIONAL: Preheat oven to broil. Place chicken thighs onto a baking sheet, skin side up, and broil until crisp, about 3-4 minutes.
Serve chicken immediately with potatoes, carrots and green beans, garnished with parsley, if desired.
#4 Witt's Favorite Beef Stew
My husband cannot get enough of my crock-pot beef stew when it is cold.  It has such great flavor and a homestyle cooked meal like no other!
What you will need:
Beef Roast - I usually use a chuck roast.  Something on the bone.
1 Carton of Beef Stock
1 envelope Onion Soup Mix
Garlic - minced
Onion - white or yellow chopped
1 Can Cream of Mushroom Soup
Potatoes
Carrots
Add beef stock, garlic, onion, and soup mix to crock-pot.  Stir until mixed.  Add roast.  I season mine with a seasoning we use on everything from a local butcher.  Cook on high until meat is very tender and falling off the bone (3-4 hours).  Remove from crock-pot and separate meat from bone and residual fat.  Add can of cream of mushroom soup to crock-pot and stir until thoroughly mixed.  Add potatoes, carrots, and meat to crock-pot.  Cook an additional 1-2 hours.
I hope you love these recipes and feel free to share your favorites!  They are some of our favorites and a few of my go-to recipes.  I look forward to hearing your thoughts on the instant pot.  Until then, me and my trusty ol' crock-pot will be cooking up a storm!
~Amy